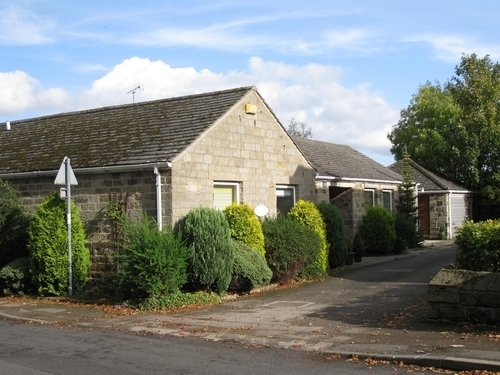 This stone-built bungalow was, like its neighbours, formed in or about 1974 from redundant farm buildings belonging to Village Farm.
An early photograph of the old Vicarage gives us a glimpse of Church Lane and the barn from which Coppings was formed.
A second old view of the entrance to Church Lane is even more clear . . . . .
. . . . . as is this old aerial photograph . . . . .
Although Church Lane is thought to be the most historic part of the village (it does, after all, contain the church and some buildings dating back several centuries), six of the fifteen houses on its east side and six of the nine on the west were created since 1950. The insistence of planners on "conversion" rather than "replacement" of buildings has clearly contributed to the impression of antiquity.
For information on early ownership of the land on which "Coppings" now stands please click here