George F Grimshaw was born on 20th October 1914 at Horsefair, a small street in the centre of Wetherby (LS22 6JG).
He was the son of Thomas and Mary Grimshaw, later of 21a Skipton Road, Harrogate as indicated on the Birth Certficate copy below. The Certified Copy is dated 1934, when George would have been 20, and may have been required as proof of age following the introduction of
National Insurance in 1920
and its
further development in 1934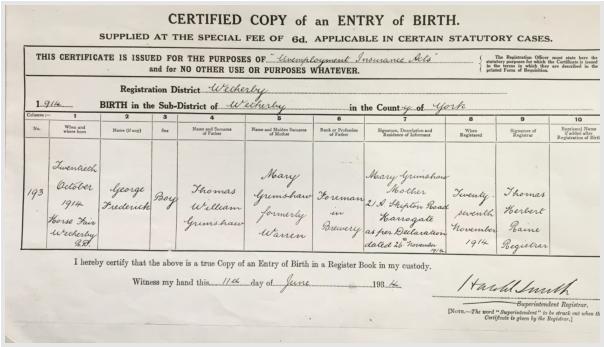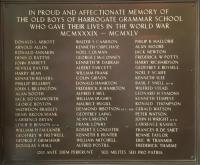 Their home at 21A and later 19 Skipton Rd was opposite Grove House, originally the Home of
Samson Fox
, famous engineer, mill owner and entrepreneur, and was where the Fire Station now stands.
Both George and his brother Douglas both attended Grove Road School - so they had probably less than a hundred yards walk to school!
George passed his "scholarship" to Harrogate Grammar School where he is commemorated on one of the school Rolls of Honour. He was evidently good at cricket since at the age of 18, he was awarded this
(4 1/2 ins high)
solid silver trophy.
George married Mary Kathleen Haxby in autumn1937 in the Harrogate area. Mary was born on 08 Dec 1908 in Knaresborough and died on 09 Dec 1981 in Ynys Mon, Anglesey, Wales. She was a younger sister of
William Haxby
, commemorated on the
Hampsthwaite War Memorial
, who was killed in action1917, and daughter of
William 'Saddler' Haxby
, all of
'Ashville'
on Church Lane.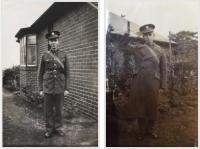 George and Mary came to live in Hampsthwaite. The photos opposite show George just after joining the army outside what is believed to be their bungalow on Hollins Lane "the last one on the Harrogate road out on the right hand side".

George Died 17th June 1940 as a result of enemy action, on board the RMS Lancastria. whilst serving in the Royal Engineers of the British Army.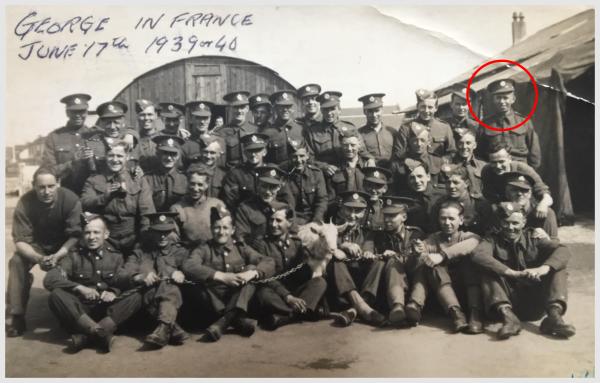 Dunkirk Memorial
The British Commonwealth War Graves Memorial Registration Report (GRR), reads:
GRIMSHAW, Dvr. George Frederick, 2189393. 116 Road Constr. Coy, Royal Engineers; lost in s.s. Lancastria (Liverpool). 17th June, 1940. Age 25. Son of William and Mary Grimshaw; husband of Mary K Grimshaw, of Hampsthwaite, Yorkshire. 
His memorial marker is at the Dunkirk Memorial Dunkirk (Dunquerque), Departement du Nord, Nord—Pas—de—Calais, France, Plot: Column 29.
See:
https://www.cwgc.org/find-war-dead/casualty/2501692/grimshaw,-george-frederick/

Download commemorative certificate (PDF)
(274k bytes)
The
Lancastria
was sunk on 17 June 1940 off the French port of St. Nazaire while taking part in
Operation Ariel
, the evacuation of British nationals and troops from France, two weeks after the Dunkirk evacuation. By the mid-afternoon of 17 June she had embarked an unknown number
(estimates range from 4,000 up to 9,000).
At 15:50 Lancastria was hit by three, or possibly four bombs dropped by a Junkers Ju 88 bomber aircraft from Kampfgeschwader 30, and within 20 minutes, the 16,243-ton luxury liner sank. Many of its life boats were either damaged or could not be launched.  Many of those in the water drowned because there were insufficient life jackets, or died from hypothermia, or were choked by fuel oil. Meanwhile, German aircraft began strafing survivors in the water and dropped flares into the floating oil.
The sinking is the worst single disaster in British maritime history, and claimed more victims than the sinking of the Titanic and Lusitania combined. It is also the largest single loss of life for British forces in the whole of World War 2.
 Many families of the dead knew only that they died with the British Expeditionary Force (BEF); the death toll accounted for roughly a third of the total losses of the BEF in France.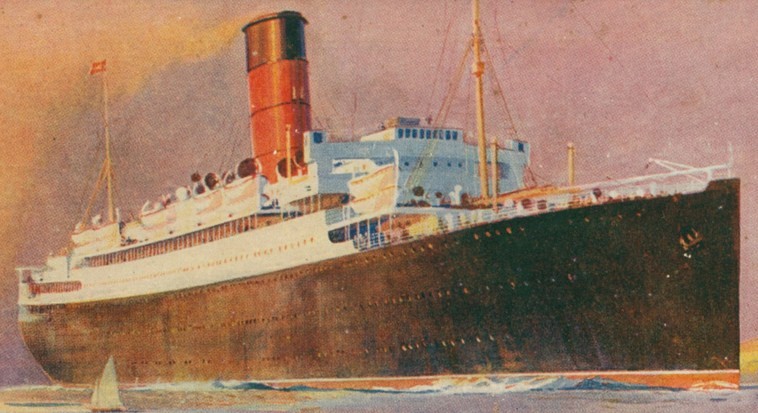 ---
Imperial War Museum Oral History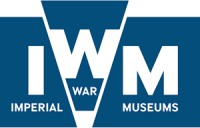 Harry Higton was a survivor of the sinking of the Lancastria. He was a British NCO served with 2/5th and 1/5th Bns Sherwood Foresters in GB and France, 1939-1943; aboard Lancastria when sunk off St Nazaire, 17/Jun/1940; served with 2/5th Bn Sherwood Foresters in North Africa, 1943; POW in Italy and Germany, 1943-1945 His account of the sinking can be listened to using the link below.



IWM - Oral History - Harry Higton - REEL 4
(10.2M bytes)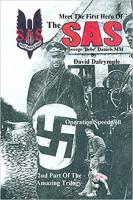 REEL 4 Continues:
moved to Everaux near Paris; description of refugees; problem of German air attacks; role in support of 1/5th Bn Sherwood Foresters; morale; preparations for evacuation; conditions on evacuation beach near St Nazaire; organisation of evacuation. Aspects of sinking of Lancastria, 17/Jun/1940: boarded Lancastria and description of conditions aboard ship; food; accommodation; description of German air attack on Lancastria and escape from sinking ship; conditions in sea; question of fear; question of German machine gun fire on men in water; problem of oil on water and danger of fire; story of being rescued by French rowing boat.
---
Harry Higton was 
a friend of David Dalrymple and his account of the sinking also appears in a book David has written about another soldier,
"Meet the First Hero of The SAS"- George Daniels.