39 High Street
It is possible that this building was constructed before the publication of the 1853 Ordnance Survey Map for some such structure seems to be shown on the map, albeit indistinctly. When the West Riding Deeds registers are again open for inspection (2017?) it may be possible to date the construction more firmly.

At present, the earliest knowledge we have of the property is from the years before WW1 when it was the home and shop of  a bootmaker called George Bell.

George Bell was born in about 1850, the son of William and Elizabeth Bell who appear to have arrived in Hampsthwaite from Ripon during the previous decade. William was a Cordwainer and Elizabeth a Shoe Binder.

By 1880, when George married Mary Ann Swale (daughter of James Swale the parish clerk) he was working as a Boot Maker. George and Mary had a number of children (six in total) including Mary Elizabeth born 1890 but who sadly died shortly before her second birthday. Mary Ann herself died in 1894 at the age of 38.

George married again in 1908 – to Margaret Ellen, the daughter of Robert Ellis, a labourer of Swincliffe. We are fortunate to have a photograph of Margaret  standing outside No 39 and thought to have been taken shortly before the First World War (as indicated by the inscription found on the back of the photograph).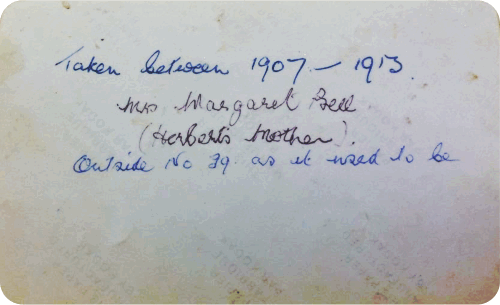 The last available census records (1911) show George and Margaret living at no. 39 with their sons Alfred (18 - a bootmaker) and Frank (born less than one month before the census). George died in 1917.

The property is double – fronted but was it built as such or have two cottages been knocked together? Notice how the doorway is off centre and some mortar joints show evidence of re-pointing or even settlement.