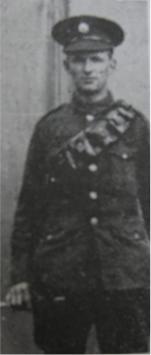 Born in Leeds, the son of Richard Gill, a blacksmith, Newton enlisted in York but the nature of his connection to Hampsthwaite is not yet fully established. The 1901 census appears to show him when he was six years of age living with his farm-labourer uncle, William Scruton, at Hirst Mill, Markington and between 1906 and 1909 his name appears in the records of Hampsthwaite Village School. In 1916 he married Jane Elizabeth Thorpe at Killinghall and by 1917 they lived at 9 Euclid Avenue, New Park,Harrogate.
He had connections to the Territorial Army, having been given a service number of T/4/140212 A.S.C. He became a Private in the 2nd Battalion of the Suffolk Regiment with a service number of 50608.
He was killed in action in France on the 16th June 1917 and is commemorated at Bay 4, Arras Memorial, Arras, France. His name also appears on the Killinghall Memorial.
He was awarded the British War and Victory Medals.