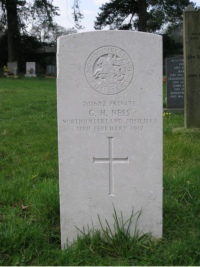 Although he was born in nearby Killinghall in 1882, no connection of George to Hampsthwaite has yet been found.
He married Mary Elizabeth Hainsworth at Leeds in 1906 and by 1911 they were living in Darley and working at the laundry there. Their son George was born in 1911.
George (senior) enlisted in the 1/4th Battalion Northumberland Fusiliers with a service number of 201602. He died on the 17th February 1917 being then stationed at Catterick Camp, Richmond and (presumably) whilst still in training.
He is buried in Hampsthwaite churchyard.