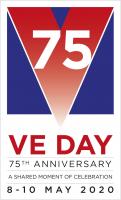 Stay at Home Street Party - Decorate your House in Red, White & Blue and enjoy a picnic in your front Garden".

The village was bedecked in red, white and blue bunting (see also a short video taken by resident Charles Charlesworth on the Hampsthwaite Memorial Hall FaceBook page)

Teas were prepared by the local coffee shop, Sophie's.

With sandwiches, sausage roll, cream scone and Victoria sponge. One recipient later declared it to be "As good as tea at the Ritz". A VE day quiz was also distributed with each tea.

A group of volunteers distributed the teas, one came appropriately dressed in an outfit from the 1940s
We were blessed with fabulous weather on the day. Teas delivered our "Stay at Home Street Party - Decorate your House in Red, White & Blue and enjoy a picnic in your front Garden" was about to commence.
The sound system from the Memorial Hall, positioned in the centre of the village, played 1940's music throughout the afternoon incorporating the broadcasting of The Last Post, piping of Battle's O'er, and the Nation's Toast to the Heroes of WW II, in line with national radio plans.
Despite the unusual circumstances the village was able to create a memorable event for all of its inhabitants.
---
Quotes:
As the afternoon teas were delivered there were many expressions of appreciation. These have been followed up by further correspondence via Facebook, and email. For example:
"Just to say a big thank you for the lovely afternoon tea you kindly delivered today. I thoroughly enjoyed mine and hope everyone else did too. In connection with the present lockdown, I am extremely pleased to be living in Hampsthwaite and feel I have been extremely well cared for throughout. I am very grateful. Please pass my thanks to anyone else connected with the arrangements, you have all done a wonderful job."
"Thank you to whoever put some sandwiches and cake on my grandad's doorstep (on Hollins close) today. It made his day! So thoughtful x"
"A massive "Thank you" to the lovely people of Hampsthwaite who organised and delivered an afternoon tea to the Hampsthwaite "seniors" today"
"My mum was so pleased and grateful - she set up her own little table in her front garden as requested . . . . . she was extremely proud to enjoy her VE Day afternoon tea in the sunshine of Hollins Close."
"Thank you, Hampsthwaite - you should ALL be so very proud of your wonderful community care and consideration. I salute you all - take a bow!"
VE Day 75 - Stay at Home Street Party - 8th May 2020
Stay at Home Street Party - Decorate your House in Red, White & Blue and enjoy a picnic in your front Garden".

The village was bedecked in red, white and blue bunting (see also a short video taken by resident Charles Charlesworth on the Hampsthwaite Memorial Hall FaceBook page)

Teas were prepared by the local coffee shop, Sophie's.

With sandwiches, sausage roll, cream scone and Victoria sponge. One recipient later declared it to be "As good as tea at the Ritz". A VE day quiz was also distributed with each tea.

A group of volunteers distributed the teas, one came appropriately dressed in an outfit from the 1940s